Wer gerne seine Temperaturen der Hardware, Drehzahlen der Lüfter, CPU-"Speed" und vieles mehr überwachen möchte, muss nicht unbedingt dicke Programme wie AIDA oder andere installieren. Hier reicht auch völlig das kleine portable Tool Open Hardware Monitor. Entpackt ist es gerade einmal 1,3 MB dick.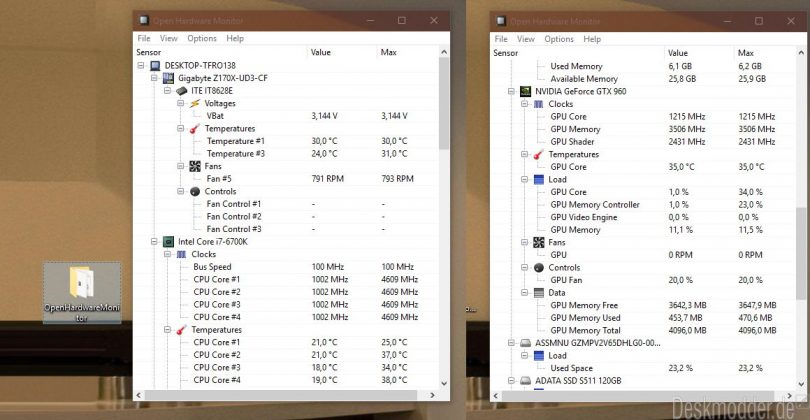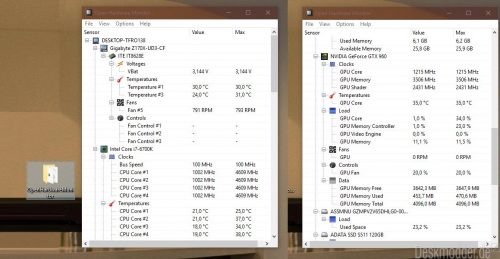 Die letzte Aktualisierung liegt schon eine Weile zurück (Dezember 2014). Dafür wurde das kleine Tool nun wieder auf den Stand der Dinge gebracht. Denn gestern (6.11.) gab es ein Update auf die 0.8.0 Beta.
Added support for Intel Skylake, Kaby Lake and Airmont CPUs.
Added support for Intel Xeon E5-26xx v4 and Xeon D-15xx CPUs.
Added support for Intel Intel i5, i7 5xxC (14nm) CPUs.
Added support for AMD family 15h model 30h APUs.
Added support for ITE IT8620E and IT8628E super I/O chips.
Added support for Nuvoton NCT6102D/NCT6106D super I/O chips.
Added more Nvidia RAM sensors (free, used and total).
Added more sensors for Samsung and Plextor SSDs.
Replaced the 'Temperature Difference From 100' with a simple 'Temperature' sensor on hard drives.
Fixed wrong Nvidia GPU clock min and plotting values.
Fixed issues with Nuvoton NCT6791D super I/O chips after wake from S3 sleep state.
Fixed incorrect OS version showing up in reports for Windows 10 and 8.1.
Added customizable pen colors for the plot window.
Improved the automatic plot pen color assignment strategy.
Einmal gestartet (als Administrator), lässt es sich ins Systray der Taskleiste minimieren und das Fenster mit allen Informationen lässt sich so schnell öffnen.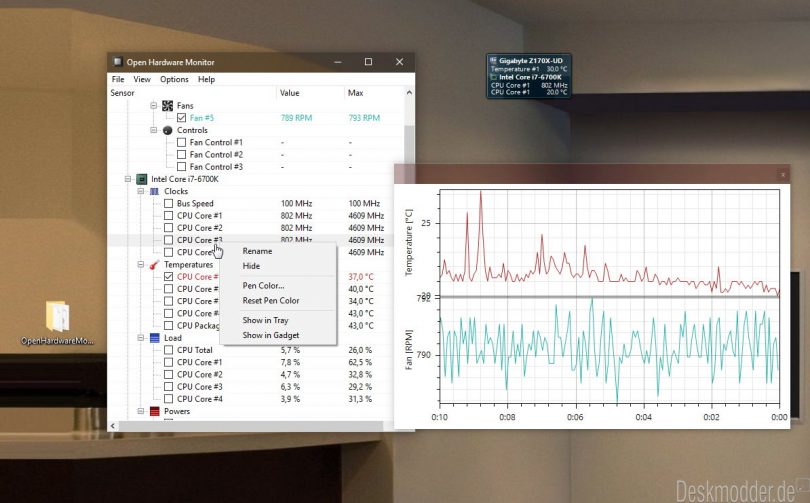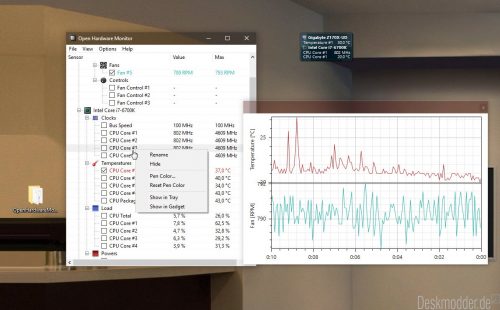 So klein wie das Tool auch ist, es bietet viele Möglichkeiten. Einmal als Grafikanzeige (Plot) der selbst ausgewählten Hardwareeigenschaften, oder als Gadget. Hier reicht ein Rechtsklick auf den jeweiligen Wert im Hauptfenster und das Gadget mit diesen Anzeigen kann dann auf dem Bildschirm (auch immer vorne) angezeigt werden.
Getestet hab ich es unter Windows 10 1607 und selbst das Gadget funktioniert ohne Probleme. Bei dieser Anzeige aller 3 "Fenster" ist die CPU gerade mal mit 0,2% belastet.
Wer sich das Tool einmal anschauen möchte:
Es ist für Windows XP bis Windows 10 sowie Linux x32.
Open Hardware Monitor 0.8 Beta erschienen