Unerwartet hat Microsoft heute früh die Windows 10 14342 für die Insider im Fast Ring zum Download bereitgestellt.
Auch in dieser Build gibt es einiges Neues, Fehlerbehebungen und natürlich auch Bekannte Fehler.
Es ist die 10.0.14342.1000.rs1_release.160506-1708, die am 6.Mai erstellt wurde.
[Update]: Windows 10 14342 ISO / ESD (deutsch) steht zum Download bereit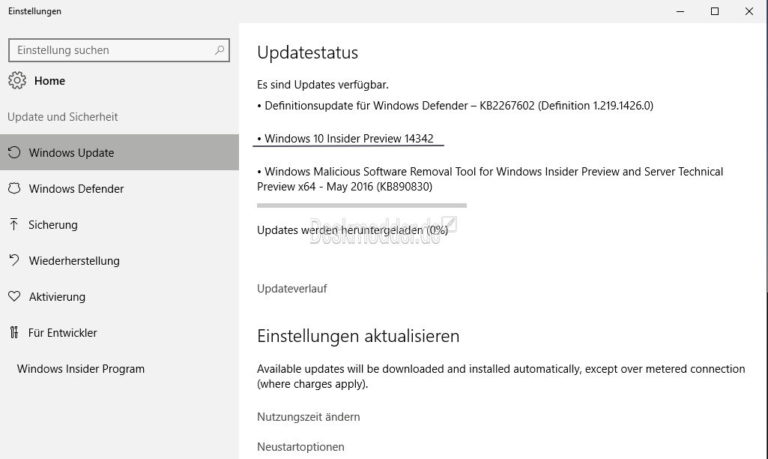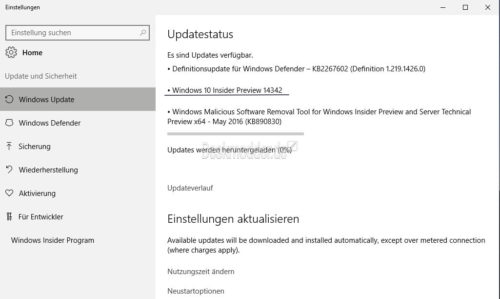 Was ist neu:
Die Erweiterungen für den Microsoft Edge müssen jetzt nicht mehr lokal gespeichert und dann installiert werden. Mit dieser Version ist es nun möglich, Erweiterungen direkt aus dem Microsoft Store zu installieren. Auch der Adblock und Adblock Plus stehen nun bereit. Aber das wissen wir ja schon.
Wichtig: In dieser Build ist ein Fehler enthalten, wenn man die Erweiterungen nur deaktiviert. Dann kann man im Microsoft Edge nicht mehr mit dem Kontextmenü arbeiten, oder ihn beenden. Bleibt nur die Erweiterung zu deinstallieren. Im Task-Manager dann alle Prozesse von Edge beenden und den Microsoft Edge neu starten.
Der Microsoft Edge unterstützt nun Echtzeitnachrichten. So werden Nachrichten die zum Beispiel über Skype for Web gesendet werden, angezeigt und man bekommt mitgeteilt, dass eine neue Nachricht vorhanden ist.
Wer mit Fingern (Wischgesten) im Microsoft Edge arbeitet kann nun auch die Webseiten vor und zurück wischen. Diese Funktion wird dann auch in der nächsten mobilen Windows 10 Version eingebaut werden.
Was ist noch neu:
Bash on Ubuntu on Windows Improvements:
Symlinks within the Windows Subsystem for Linux are now functional on the mounted Windows directories. This fix helps support many scenarios including the npm installer.
Users with non-Latin Windows usernames are now able to install Bash on Ubuntu on Windows.
Many more improvements can be found in the WSL release notes here!
Skype UWP Preview Update:
The Skype UWP Preview app has been updated in response to your feedback. In this release, you have the ability to set a dark theme and can switch between different Skype accounts. You can expect mobile release in the next few weeks.
Updated Windows Ink Workspace icon:
We have updated the Windows Ink Workspace icon on the taskbar. The new icon shows a more expressive ink stroke and is more consistent with other icons in the notification area. The new icon also looks better at wider range of sizes.
Updated visuals for User Account Control dialog:
The UAC dialog now supports dark mode! As part of this work, we've updated also the header color from yellow to blue.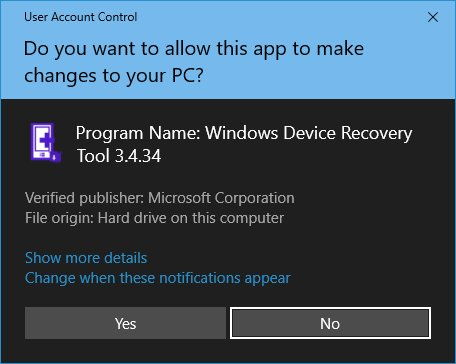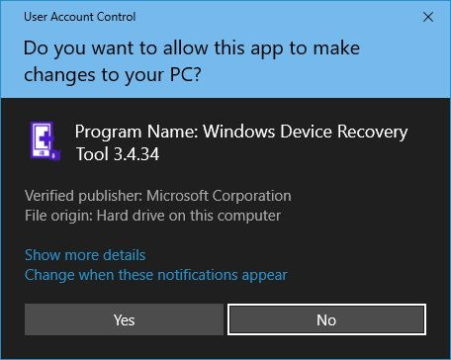 Middle-click for dismiss in Action Center:
Action Center now supports the popular dismiss model of middle-clicking on a notification via the middle button scroll wheel on your mouse to a single notification. Middle-clicking on an app's name will dismiss all the notifications listed for that app.
Apps for websites:
As we discussed at Build 2016, you will soon be able to redirect certain websites to open with an app instead. While there are currently no apps that support this, in preparation for their availability we have added a new page at Settings > System > Apps for websites where you will be able to manage them. Please stay tuned!
Feedback Hub improvements:
We've heard from you that it can sometimes be hard to find which category your feedback belongs in. Now when you create new feedback, the Feedback Hub will suggest categories and subcategories based on the title and description you entered. If you see a suggestion that looks right, just click it to fill in the menus and get your feedback to the right engineers quickly.
Welche Fehler wurden in der 14342 behoben:
We have fixed the issues blocking the Desktop App Converter Preview (Project Centennial). You can now run the converter on the Enterprise edition as well as Pro edition of Windows. You will need the latest converter and base image from here to take advantage of all the improvements which will be available later today.
We fixed the issue causing Tencent online games from not working in current builds from the Development Branch.
We have fixed the issue causing DRM-protected content from services like Groove Music, Microsoft Movies & TV, Netflix, Amazon Instant Video or Hulu from being playable with playback with 0x8004C029 or 0x8004C503 errors.
We fixed an issue resulting in audio crashes for users who play audio to a receiver over S/PDIF or HDMI, and use a driver that supports real-time encoding via technologies like Dolby Digital Live or DTS Connect.
Polished the animation when invoking Cortana on the Lock screen. And also resolved an issue where tapping the link to fix mic issues wouldn't fix them.
We fixed an issue resulting in the ok/cancel buttons in the network flyout being clipped on high DPI devices.
We fixed an issue where you might see Windows Hello messages on the screen while you were already logging in with a fingerprint.
We fixed the issue where if you were in an app and clicked on a link with a URL longer than 260 characters, it would bring up the "Open with…" dialog instead of opening with your default browser.
We fixed an issue resulting in not being able to use your mouse in the Photos app to either move photo while zoomed or adjust crop region.
The ALT + Y keyboard shortcut to choose "yes" now works with the updated UAC UI.
Updated new Credential UI to add support for pasting into username and password fields
Polished icons used to identify pages in the Settings app – in particular, updated battery icon to be more consistent with the weight of the other icons.
Made some polish improvements to the Action Center, and resolved an issue where icon in Taskbar wasn't displaying correctly at 175% DPI.
We fixed an issue where the image used in Screen Sketch would be rotated 90 degrees for native portrait devices (such as the Dell Venue 8 Pro). Also polished the experience of cropping images in Screen Sketch.
We fixed Clock and Calendar flyout issues on the taskbar with the 24-hour time format where the agenda items would display using 12-hour format instead of the 24-hour time format and certain items would be off by 12 hours.
We fixed an issue where the Clock and Calendar flyout couldn't be dismissed by clicking on the date and time in the taskbar a second time.
We updated the "set location" notification so tapping anywhere in the notification will now enable you to set a default location.
We fixed an issue where certain shortcuts weren't working in UWPs, for example CTRL + C, CTRL + V, and ALT + Space.
We fixed an issue where tapping the battery icon wouldn't open the Battery flyout when in Tablet Mode.
We fixed an issue where clicking elements in the Start navigation pane might result in the Store opening instead.
We fixed an issue where background audio tasks might show up in the volume controls.
We added a "Clear Input History" option to the IME Settings page.
We fixed an issue where doing an action on a file in a folder pinned to Quick Access after using the address bar to get there might result in File Explorer unexpectedly navigating to Quick Access.
We fixed an issue resulting in Cortana crashing if you shared an avatar with Cortana from the Xbox Avatars app.
We fixed an issue causing the search box on the Language Settings page to not work.
Und die schon üblichen bekannten Fehler, die sich jeder einmal durchlesen sollte.
Feedback Hub is not localized and the UI will be in English (U.S.) only, even with language packs installed.
Feedback Hub takes about 20-30 minutes after updating to this build to download and populate itself if launched from Start. If you launch Feedback Hub from All apps – it will force the app to hydrate.
Symantec products such as Norton Antivirus and Norton Internet Security are causing PCs to bluescreen (bug check).
The QQ app from Tencent crashes. We're working on a fix for the issue.
If you are using a non-English keyboard, you can't accept Bash prompts.
We are investigating an issue where if you're running Insider Preview builds in certain languages, the All apps list on Start appears empty. A workaround for this is to use search to launch apps.
You may see square boxes in certain apps when using some of the new emoji – we're still getting things set up, this will be resolved in a future build.
Wir versuchen auch für diese Version wieder die ISOs und ESDs zu verlinken. Kann natürlich aber noch etwas dauern. Also schaut immer mal wieder rein.
Weitere Informationen zu Windows 10
Ihr sucht weitere Tipps, Tricks und Tutorials für Windows 10? Dann schaut in unserem Wiki vorbei bzw. speichert folgende Seiten in den Favoriten:
Ihr habt Fragen zu Windows 10? Dann ab in unser Forum. Auch Gäste dürfen Fragen stellen und natürlich auch beantworten:
Windows 10 14342 (Desktop) steht zum Download für die Insider bereit