Ich verfolge nun schon seit einigen Tagen die Tweets von Gustave M., der einen Registry Editor für Windows 10 Mobile (Lumia) Systeme erstellt hat. Der vorläufige Name ist Interop Tools. Wir hatten ja von dem "Jailbreak Interop" berichtet
Die App ist noch im Beta Stadium, also mit aller Vorsicht zu geniessen.
[Update April 2017:] Die Interop Tools sind nun als Universal App im Windows Store erhältlich. Hier der LINK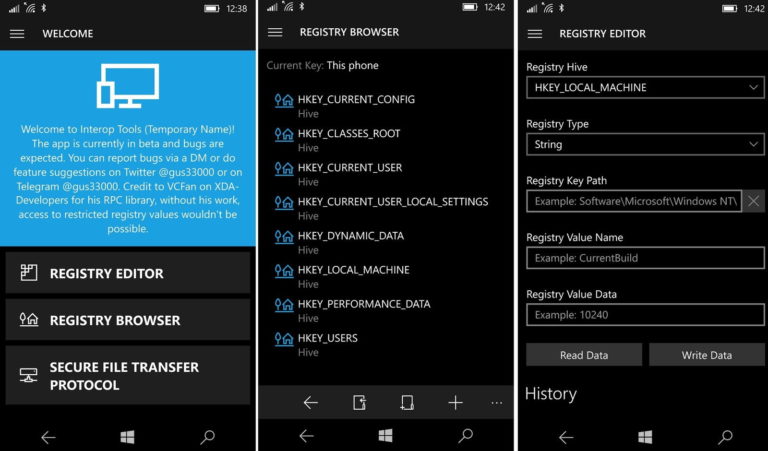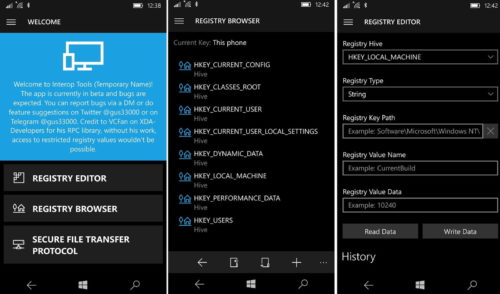 Die App enthält:
Einen Registry Editor
Registry Browser
Und FTP (Secure File Transfer Protocol)
Voraussetzung ist, dass man in den Einstellungen -> Update und Sicherheit -> Für Entwickler den Entwicklermodus aktiviert. Die Meldung die erscheint muss bestätigt werden.
Jetzt kann man mit dem Handy auf Mega die InteropToolsApp als appxbundle (1,1 MB) herunterladen und installieren.
[Update]: Beta 1.4 ist nun verfügbar. Mega
Interop Tools Beta 1.4 Changelog
+ Added the Application manager, allows you to install, update, and register (unpacked apps) appxs, appxbundles, and xaps. It also allows you to see what packages are currently installed on the device.
+ Added the ability to add keys to the registry browser
+ Added the ability to add values to the registry editor
+ Added the ability to change the access root path of MTP to the Interop Unlock page
+ Added the Offline Charging Tweak (if your phone is stuck on a black screen, boot it without the cable plugged in, that's a bug in the current Windows 10 builds)
+ Added binary registry values support
+ Added a troubleshoot section to the interop unlock page
+ On the fly interop unlock settings is now possible, no more apply button
~ Redesigned the Tweaks and Interop Unlock pages
~ Redesigned the registry value edit dialog for the registry browser
~ Moved the red warning text about features only available to lumias to the top of pages
~ Reworded Folder to Key in the browser
~ Fixed multi string registry values support
~ Fixed an issue where you couldn't edit dword values on Samsung Devices
~ Removed disable full FS access option from the interop unlock page, you now need to just turn off the pill switch for Full FS access in order to disable it
Known issues:
Interop Tools beta 1.2 Changelog:
The registry browser value editing dialog now displays the value type and name.
The registry browser now correctly handles write errors and will display them to you.
The registry editor now saves the history and has a new clear all button to clear all of them.
You can now tap a history item in the registry editor and it will fill all fields for you.
~ Improved the Registry browser ui again.
~ The app is now a regular app and not a settings app as there was many requests for this.
~ New icon for the app.
~ Small ui changes on the welcome page.
~ Bug fixes.
Known issues:
It appears there is an editing issue for the pagingfiles on redstone, where the value is not set, this might be due to the key being reverted automatically. This is under inspection.
? It appears there is an editing issue for the pagingfiles on threshold, where some ";" appears instead of spaces, I can't reproduce it on my side, so if you could confirm or not confirm that to me on twitter that would be great.
Danach erscheinen die Interop Tools unter Einstellungen -> Extras -> Interop Tools und kann von dort aus gestartet werden.
Nun kann man die Registry im Windows 10 Mobile öffnen und sich vorsichtig einmal umschauen. Am besten ist natürlich ein Zweitgerät, auf dem man ohne weiteres testen kann.
Daniel Rubino hat auch gleich ein Tipp für diejenigen die ein Problem mit dem mobilen Hotspot haben:

"For those who have issues with enabling Mobile Hotspot on their phones:
HKLM\System\ControlSet001\Services\ICSSVC\Settings\EntitlementRequired to 0"
Interop Tools App: Registry Editor für Windows 10 Mobile erschienen (Update)