Mit Windows 10 bringt Microsoft für die Xbox One User auch das Game-Streaming als neues Feature mit. Spiel auf der Xbox One starten und am PC spielen. Nun hat Microsoft dieses Feature für alle Xbox One User mit Windows 10 PC nach einer kurzen Preview-Phase aktiviert.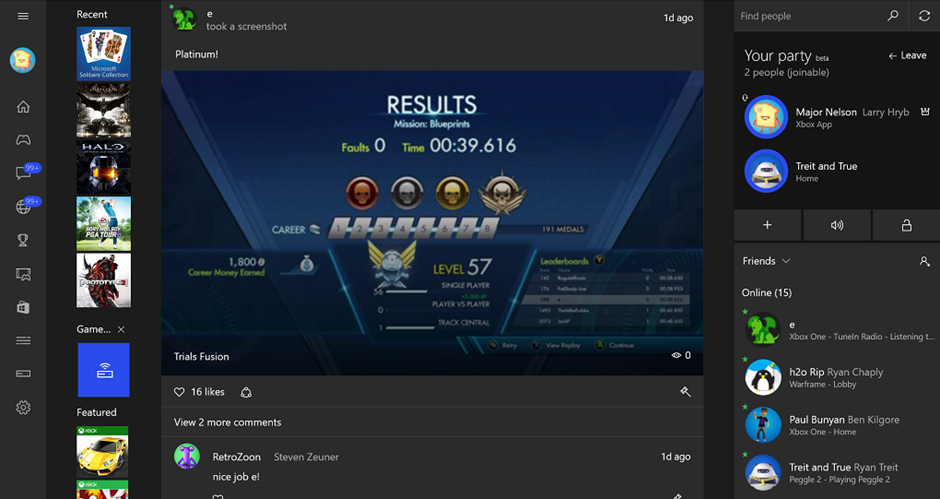 Dabei wurde auch das Xbox App unter Windows 10 mit neuen Features ausgestattet.
"

Party Chat – Above the Friends list is a new option labeled Start a party (beta). This enables you to start a party chat with your Xbox friends across Xbox One and the Xbox App on Windows 10. Press '+' to invite friends, and simply click on your friends to invite them to an online party.
My Games – The app will support automated discovery of Windows Store games and a large number of older non-Windows store PC games so they get added automatically to your game collection within the Xbox app upon first launch.  If a game is not automatically added, you can manually add it to your collection by selecting My games > Add a game from your PC. The Xbox team will continue to add non-Windows store games to a service-side list, so that automated discovery will improve over time.
Home – We updated Home to enable easy access to Game streaming and allow quick launch of a game from the Recently playedlist. Also, there is an updated Featured gamessection on the home screen below your recently played list, which lets you discover and install new and popular games available from the Windows store.
Profile – You can choose to use your Avatar or gamerpic to be displayed to your Friends. Additionally, you can easily customize your Avatar, change your gamertag, gamerpic, and user color, and update your name sharing settings in one place under Customize.
Share with your friends – Coming in the July release, you can upload your local game clips and screenshots for Windows store games to your shared collection on Xbox Live. Go toGame DVR > On this PC > Share to upload your local clips and screenshots and have them appear on your Activity Feed.  You can capture game clips and screenshots for non-Windows Store games and access them viaGame DVR > On this PC > Open folder.
Xbox Avatars – We are updating the Avatars app, so you can use the "Take a photo" feature and save a specific Avatar photo as your gamerpic. There are several ideas on Xbox Feedback that inspired this change, but this idea with over 2,100 votes and the various comments from fans drove the team to deliver this as a new feature this month. Time to head to the Avatar photo booth, select a post or a frame of animation, select a background, and select Picture size > gamepic. Then click the camera icon, and select Save as gamerpic to make your new pic visible across Xbox on Windows 10 PCs and Xbox One.
Day One Experience – For PC owners that are new to the Xbox ecosystem, we are adding a feature to the Xbox app to help you create a new account, get a gamertag, and then land in a basic user experience that helps you get started finding games, earning achievements and using your activity feed.

"
Weitere Informationen findet ihr bei
Xbox Wire
.
Game-Streaming für Xbox One User mit einem Windows 10 PC nun nutzbar